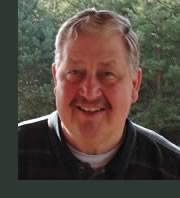 Over eleven years ago, a close friend suggested Dennis attend a woodcarving class. Although he admits he was a bit apprehensive about "playing with sharp tools and knives", he agreed. This would prove to be a wonderful decision, opening up a New World of enjoyment for the artist. Today, after minimal trips to the emergency room and all of his fingers still intact, Dennis has been able to turn his passion for woodcarving into a career.
His appreciation for irony and satirical comedy make caricature carving Dennis Thornton's style of choice. He transforms a simple block of wood into a work of art, capturing a unique and engaging comical situation for the viewer to enjoy. Dennis feels his greatest sense of accomplishment when a viewer finds amusement in his work.
Dennis studied at the American Woodcarving School in Wayne, New Jersey for over seven years. During his time there, he had the privilege of learning from some of the most esteemed carvers in the United States. In addition to his studies, Dennis began entering his work in shows and exhibitions. Many of his award-winning pieces now appear in galleries and private collections across the country.
In 2003, Dennis and his wife, painter Susan Thornton, opened a studio together where they showcase their work and offer instruction. Currently, Dennis is a full time woodcarver, often traveling the country to teach seminars, participate in shows, and judge exhibitions. In 2000, he was inducted into the Caricature Carvers of America where he served as treasurer and presently holds the position of vice president.